Spacious, safe and sporty. Are you ready for a relaxing cruise?
SARGO 36 Explorer boasts a very seaworthy hull providing a soft and dry ride due to the raised bow section. The extra wide walkaround layout features the non-skid single-level deck now painted in dirt-resistant grey, making it both easy and safe to move around. An extra large sliding cabin hatch consisting of three windows lets the sunshine and fresh sea air in. A inviting gathering area can be found on the stern deck.
This stately 36-footer offers two spacious cabins as bedrooms, in the front a toilet with separate shower cabinet and in the aft possibility to a second toilet. The standard amenities include an efficient heating system, an inverter, a gas oven and a well-equipped pentry. The hull is divided into two water-tight sections enhancing the overall safety. If you want to combine sportiness with common sense, Sargo 36 Explorer offers a fantastic trade-off.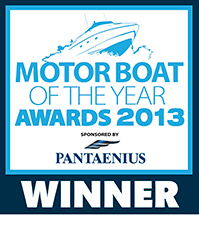 Length overall 11,80 m / 38.7 ft
Beam 3,60 m / 11.8 ft
Draft 1,10 m / 3.6 ft
Dry weight double engine 8400 kg / 18520 lb
Berths (Front cabin / aft cabin) 2 / 3
Engine recommendation (Single) 400 hp
Engine recommendation (Twin) 2×300-400 hp
Top speed range 28-40 knots
CE category B-Offshore